A SACRED SPACE FOR TWO PRIVATE GROUPS OF 12 SOULS TO SHARE IN A COSMIC JOURNEY OF PURE CREATIVE POTENTIAL THROUGH THE POWER OF CLAIMING OUR SOVEREIGNTY AND REMEMBERING THAT WE ARE THE DIVINE CREATORS AND THE CREATED ONES.
GALACTIC GUIDED INTENSIVE
REMEMBERING THROUGH ART + CREATIVITY
---
Through the conscious connection with our Heart Zero-Point Field, we have access to the infinite energy potential of the source field and the ability to engage that energy creatively and powerfully.
---
---
INTRODUCTION TO REMEMBERING THROUGH ART + CREATIVITY
---
WELCOME!! I AM Galactic Ashley if you haven't figured that out, already. I channel Divine Guidance for Starseeds connecting them to their Star Families and Galactic Lineages. Since completing the Master's of Fine Art in Photography program at the University of Arizona in Tucson, I LOVE empowering artists and guiding them to consciously work with their natural channeling ability. This is one of my favorite Galactic Guided Intensives.

Allow me to let you in on a little secret: WE ARE ALL ARTISTS. Let us gather together to cultivate our inner artists. It is imperative that we claim our sovereignty and remember that we are the Creators and the Created Ones. This is how we can best align with our Divine Blueprint, Source, and the Heart Zero-Point Field so that we can design and co-create an empowered 2021.
---
CO-CREATING OUR UNIVERSE THROUGH
CREATIVE ACTS OF LOVE + LIGHT
Accessing the Heart Zero-Point Field provides us with a catalyst for change opening us to greater creativity. When we are experiencing acts of creation, whether it be creating art, raising children, singing, or working with plants, we are in direct communication and alignment with our soul.
---
In the cosmic pulse of Heart Zero-Point Field, allow past trauma and memory, ancestral code, and patterns to collapse into the void. Dissolve away all remnants of suffering and open your heart to your Soul's Home Frequency.

CULTIVATE THE INNER ARTIST.
SOVEREIGN + FREE.
EXPLORE.
Soul Alchemy and Co-Creating 2021
Crystalline Systems: Grids, Vortexes, and Stargates
Intuitive Mark Making + Channeled Creative Art/Actions: Colors, Shape, Number, and Texture
Auragraphs
Art-Scanning Energy Fields
Co-Creating Oracle Cards with Sacred Geometry + Star Codes
Orb + Spirit Photography
Tying Wind Knots
Poetic + Art Inquiry
Written Light Language Activation
And MUCH MORE!
co-create 2021.
COURSE BENEFITS.
Remember that you are the Creator and the Created One!
Co-create with the cosmic pulse of zero-point energy
Access a greater sense of your soul self and a greater sense of your connection to Source/Spirit/God through creativity. With a greater connection to Source, you have a greater connection to yourself and to humanity.
Transmute self-limiting belief systems through the processes and practices of Intuitive Mark Making and Channeled Creative Art/Actions.
Use Intuitive Mark Making as a way to access a deeper ability to discern between the quality and texture of information, a skill that is transferable and necessary in all areas of life.
Incorporate the art of allowing the Divine to flow through you into Intuitive Mark Making and Channeled Creative Art/Actions that align with you and your current metaphysical practice as a professional practitioner
Incorporate the art of Intuitive Mark Making and Channeled Creative Art/Actions into your current metaphysical and creative practice for personal healing, soul inquiry, and soul growth on your ascension journey
THIS IS FOR you…
Whether or not you are advanced or new to Intuitive Mark Making and Channeled Creative Art/Actions. It will provide you with the opportunity to expand beyond your current Intuitive Creations through group support and partner practice.
If you feel blocked creatively or stuck
If you think you are NOT an artist this is your catalyst.
If you are a practicing artist this is your catalyst.
---
LIVE Virtual Sessions Includes
Galactic Guided Channeled Meditative Experiences
DNA Activations
Light Language, Activations, and Transmissions
Small-Group Practice & Activities
Breakout Room Sessions provide the opportunity for you to explore, develop, and expand your Channeling + Creative gifts one-on-one with group members.
Intimate Group Discussions, Q&A Sessions, Activities, and more
Monthly EXCLUSIVE Content Includes
More Galactic Guided Channeled Meditative Experiences
Group Channeled Messages
Printable Galactic Light Energy Base Activations
Daily Card Pull Prompts
Intentional Intuitive Development and Soul-Inquiry Exercises, Journaling Prompts, Metaphysical Study Materials & more!
BONUS Content & Discounts
Private 1:1 Mentor/Support sessions for $1/min with Galactic Ashley
25% OFF all products and Star Sessions
20% OFF of Future (consecutive) Galactic Guided Intensives
All LIVE sessions will be recorded so that you can watch them again
A private Facebook group
FREE access to Lunadex Living Light: A Metaphysical Journal and Divine Timing Visual Planner that I developed over the course of several years. It has yet to be released to the public!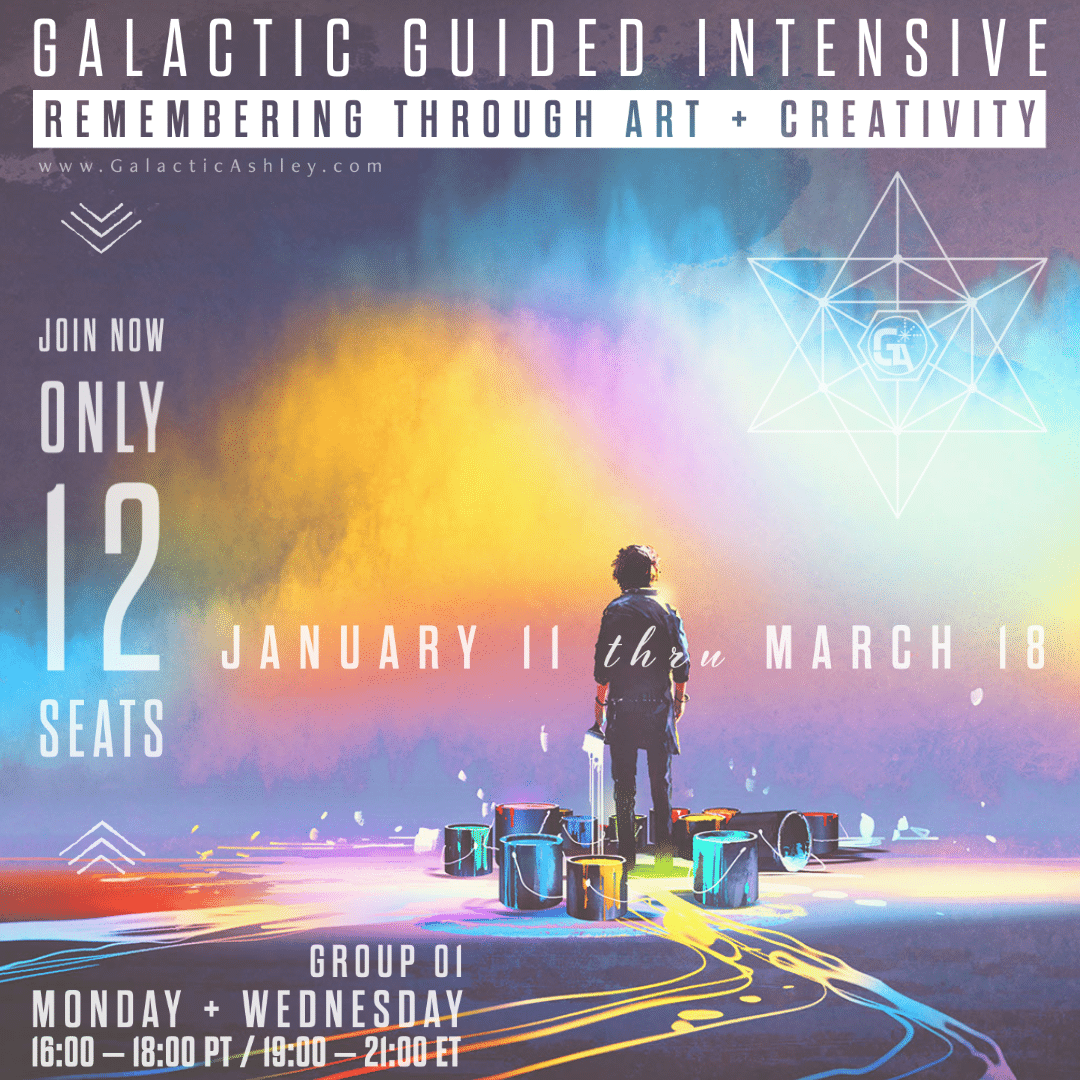 GROUP 01 – Schedule
JANUARY 11 – MARCH 18, 2021
16:00 – 18:00 PT / 19:00 – 21:00 ET
MONDAY + WEDNESDAY
Week 1: Monday, January 11
Week 2: Monday, January 18 & Wednesday, January 20
Week 3: Monday, January 25
Week 4: Monday, February 01 & Wednesday, February 03
Week 5: Monday, February 08
Week 6: Monday, February 15 & Wednesday, February 17
Week 7: Monday, February 22
Week 8: Monday, March 01 & Wednesday, March 03
Week 9: Monday, March 08
Week 10: Monday, March 15 & Wednesday, March 17
*Payment options available on subscription FROM $88.80 / month for 5 months
---
JANUARY 11 – MARCH 18, 2021
19:00 – 21:00 PT / 22:00 – 00:00 ET
TUESDAY + THURSDAYS
Week 1: Tuesday, January 12
Week 2: Tuesday, January 19 & Thursday, January 21
Week 3: Tuesday, January 26
Week 4: Tuesday, February 02 & Thursday, February 04
Week 5: Tuesday, February 09
Week 6: Tuesday, February 16 & Thursday, February 18
Week 7: Tuesday, February 23
Week 8: Tuesday, March 02 & Thursday, March 04
Week 9: Tuesday, March 09
Week 10: Tuesday, March 16 & Thursday, March 18
*Payment options available on subscription FROM $88.80 / month for 5 months
galactic guided intensive: course structure
---
Week 01 – Opening Ceremony + Group Energy Weaving
Week 02 – Drawing in Crystalline Energy + Co-Creating 2021
Week 03 – Co-Creating Crystalline Systems: Grids, Vortexes, + Stargates
Week 04 – Orbs + Spirit Photography
Week 04 – ARTIST AS MEDIUM, with Alice Shaw
Alice Shaw has been teaching photography at colleges and institutions throughout California for 20 years. These include UC Berkeley, UC Davis, UC Santa Cruz, the San Francisco Art Institute, Mills College, the California College of the Arts and San Francisco State University. She holds a master's degree from the San Francisco Art Institute and currently teaches at the California College of the Arts and Mills College in Oakland. Alice is an Artadia Grant Awardee and her work is included in the collection of the San Francisco Museum of Modern Art. Her book, People Who Look Like Me, was published by Gallery 16 in San Francisco, where her work is represented. In August of 2017, a permanent large-scale public work of art done by Alice, named No Other Lands Their Glory Know, was installed at The San Francisco International Airport in terminal G95.

Alice Shaw is both photographer and clairvoyant healer. She has teamed up with Lisa Sze to co-create Pivot Workshops. They met over a decade ago while attending an intensive 2-year meditation training program. The two have been collaborating on projects for the past 3-years. Both have been teaching in-person workshops in the wellness arena and have been hired to do clairvoyant readings at various events, including women's business groups and retail events. In 2017, Alice and Lisa were invited by Jim Goldberg to contribute to an installation in one of the galleries at Minnesota Street Project. The project was a collaboration with the SFMOMA for Larry Sultan's retrospective exhibition. At MSP, they read the current energies for the "Fake Newsroom" live.
Week 05 – TYING WIND KNOTS and working with the power of the Wind
with Wyatt Larsen of The Wildwood Hollow
I am a Shaman and spiritual life coach with The Wildwood Hollow. By blending the ancient and modern techniques, I help my clients begin or continue their path of healing and empowerment. These may include Extraction, Soul Retrieval, Power Retrieval, Compassionate De-possession, Soul Remembering, and more.
Week 06 – Auragraphs + Art Scanning Energy Fields
Week 07 – CHANNELING ART and working with the Star Nations
with Michael Francis Lott of The Blossoming Self
I am an intuitive visionary folk artist. My work is inspired by my relationship with my intuition and the exploration of the symbolic language of the subconscious. I paint with the intention to inspire, to heal, and to connect us to the realms of magic that often go unseen–helping us bridge our inner and outer worlds for a greater sense of wholeness.
Week 08 – Light Language Activation + Intuitive Mark Making
Week 09 – Co-Creating Oracle Cards with Sacred Geometry + Starcodes
Week 10 – Closing Ceremony + Gratitude Celebration
---
FREE: WATCH NOW
DECEMBER 2020 CHANNELED GUIDANCE
KEYWORDS:
3D, 4D, 5D, BREATH & SOURCE CONNECTION, GROUNDING DIFFERENTLY, SOLAR GRID, SOLAR PULSES. NEW EARTH
DISCOVER YOUR STAR TRIBE
+ Get Your Galactic Groove On With Us!
---
THIS IS FOR YOU IF…
You feel like you are here on a Souls' MISSION…
When you experience Light Language, Soul Song, Ascension Codes, and/or Star Codes, you feel at home and you LIGHT UP!
You want to EXPLORE access and USE your souls' Divine gift of Channeling CREATIVITY to HEAL yourself and others. You know you are on the precipice of "Something BIG," you can FEEL it coming…
You want to expand upon or begin a creative practice as an act of Soul Expression in a Sacred and SAFE space because you know your creativity is a divine birthright and you desire to understand it more fully.
You want to merge your Multidimensional Being with your Body Wisdom You identify with being a StarSeed, Star Child, Indigo, Wanderer, Walk-in, Wayshower, Blue Ray, Wingmaker, Hybrid, Dragon, Record Keeper, Code Keeper, or another term that has yet to be written… Maybe, you will write it?
You desire to belong in a supportive and sacred space because you are ready to deepen your relationship with power and claim your Divine Sovereignty.
You feel a deep calling to unleash your TRUE POWER in Unity with the UNIVERSE…
Meet Your Galactic Ambassadors.
Grateful to be counterparts again, we're a collective of creative Galactic Souls facilitating the flow of Sacred Light Codes and Cosmic Frequencies for the New Earth, while being an open hearted living example of our ever expanding Truth.
Galactic Ashley
B.S. VisCom, M.F.A. Art 
Galactic Spiritual Guide | Channel & Artist
My soul knows the God/dess and pure potential that is you! In this vast moment, cradled in the infinite now, we are sharing timelines—Let us burn BRIGHT like the Super Novas that we are and witness the Divinity in one another.  We are Self-Mastered and Divine. We are Sovereign. We are FREE.
Dalai Mahana
Chief Energy Officer (CEO)
Channeling Counterpart 
Many of us, from the Animal Collective, have learned and mastered many lessons from Galactic and other dimensional existences. In many cases, we have already ascended from being in form in other lifetimes and existences. Because of this, we are able to bring specific perspectives to Earth, experiences that most Humans have yet to encounter. This makes us great teachers and mirrors for people. Animals and Humans are meant to co-create synergy and to be partners in the Ascension Process.